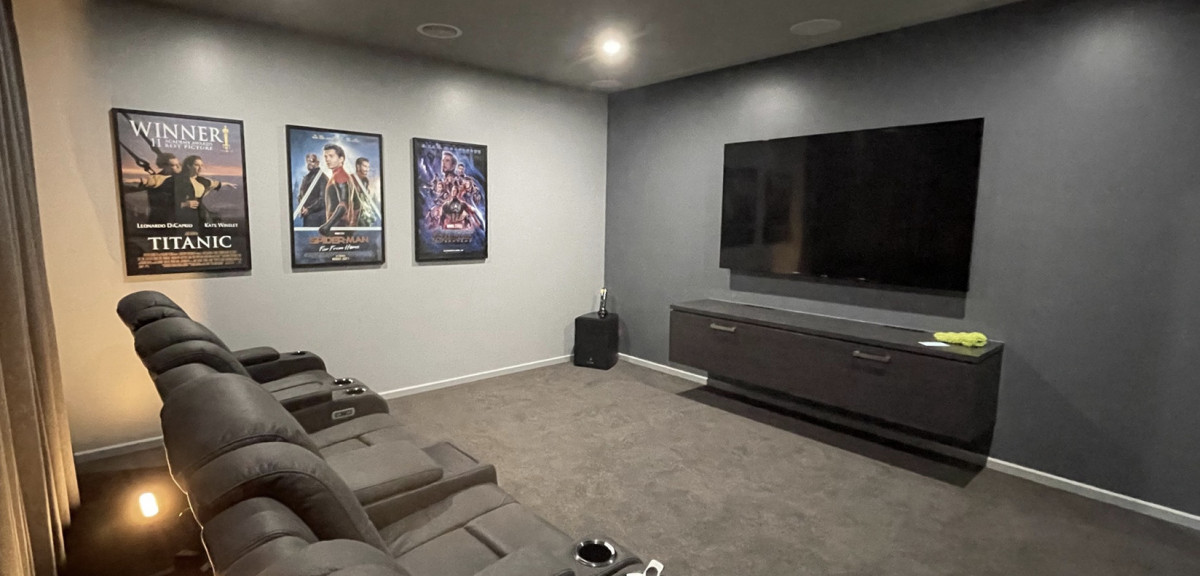 Providing an epic theatre experience in your home.
We're proud to display our finest work when it comes to custom designing and building Home Theatres for our customers.
An epic space requires a level of detail and attention, and the right choice of lighting can make a huge difference when bringing your vision to life. An installation with a classy finish, bringing together the ultimate functionality and aesthetics.
A great space to showcase our work, this project caters for all your home entertainment needs and features:
Dual Display including both a Wall Mounted 85″ Sony 4k TV + a 120″ Recessed Drop Down Elite Screens Projector Screen coupled with a BenQ 4k Projector
Macktronix 8″ and 6″ In-Ceiling Surround Sound Speaker Solution + a Klipsch Subwoofer (clients reused their existing Subwoofer)
Marantz Dual Display Compatible 4k Amplifier / Receiver
Philips HUE and Aeotech Z-Wave Lighting Control Hardware
Automation / Control by ELAN with seamless integration between AV and lighting
ELAN Universal Touchscreen Remote
A solution proudly designed, sold, installed and supported by the Macktronix team.